http://asiancajuns.com/wp-content/uploads/2009/11/mascl_kath.jpg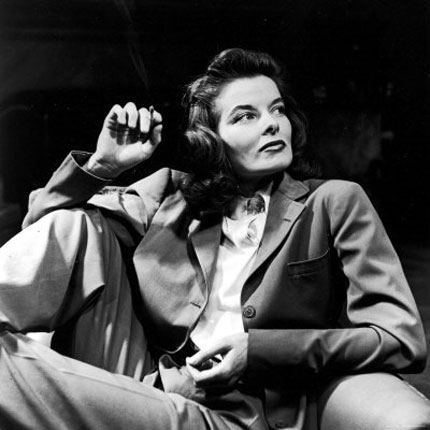 Katharine Hepburn wore slacks more than she did dresses. Katherine is a perfect example of the empowered woman who always thought of herself equal to men. She deifinitely made menswear for women be stylish.
http://the100.ru/images/actors/id325/4523-KatharineHepburnWomanoftheYear.jpg
"I never realized until lately that women were supposed to be the inferior sex."-Katharine Hepburn
http://media.photobucket.com/image/annie%20hall/catzzs/annie-hall-1-1024.jpg
Menswear for women has come a long way since the late 70's. Designers have been coming out with a few key pieces and so far they have been doing great. The boyfriend jeans has been a big hit, women style them with either stilletos or some simple casual flats. Another look that I have been seeing is the boy fit trousers. They are supposed to be big in the fall, I completely agree because I have been seeing a lot of it in the runways and in Hollywood. When going shopping a lot of stores will have the boyfriend jeans, boy fit trousers, boyfriend sweater/cardigan. For shoes oxfords or loafers are huge, now they have made them with a little twist, they made oxford cut-out pumps. Personally I like this look, its fashion forward with a modern twist. I believe that it will be a trend for a while.
http://www.frugal-fashionistas.com/2009/02/menswear-for-women.html